Pulp – Disco 2000 (Chords)
I thought I'd keep the Britpop theme going with my favourite of the Britpop bands: Pulp. I couldn't decided on just one song so there are two posts today. And there's every chance of more in the future. They were a great band.
Disco 2000 is prime ukulele group fodder. It's a got a big singalong chorus, simple chords and some fancy bits for the show offs.
For the folks who are keeping it simple in the chord sheet I've just referred to the main F and C chords (other than in the intro). You can play that and it'll fit great. Or you can play the riff which switches in sus4 chords (a very common move in Pulp songs) like this: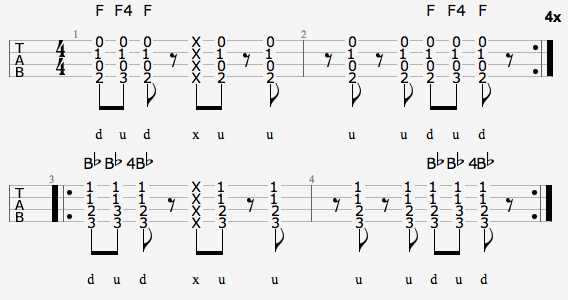 Which sounds like this:

Verse/Intro Riff
Suggested Strumming
You can use the same two bar pattern as the riff almost all the way through the song. So just the strumming goes like this:
d u d – x u – u
– u – u d u d –
Use that all through the verses and for the first two lines of the chorus. Then do d – d – d u d u on the Cm and two down strums each on the Fsus4 and F. Together that sounds like this:

Chorus Strum
In the bridge you can just do one down strum for each line. Or you use this two bar pattern:
d – d u – u d u
– u d u – u d –
Twiddly Bits
In the bridge there's this dead simple line from the guitar:

And this one in the chorus: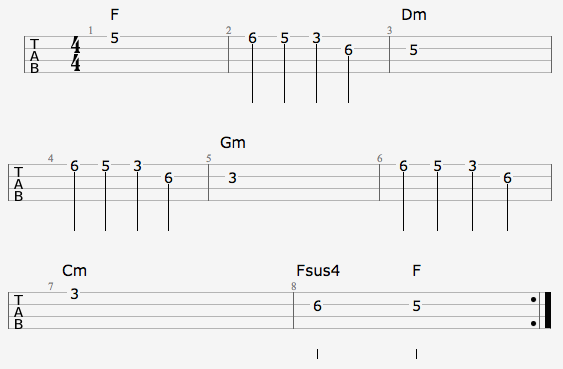 Chorus Riff
Links