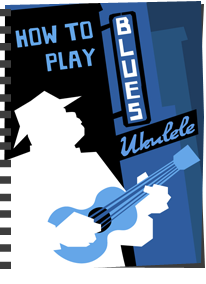 I've just released an updated version of How to Play Blues Ukulele ebook with a snazzy new look, more examples, YouTube videos of every example, and more backing tracks.
If you've bought the ebook in the past you should have had an email from me with a link to download this version (it may have ended up in your spam folder). If you don't have it shoot me a message with the email address you used when you purchased it and I'll get you a copy.
Or find out more about it here.
What It's For?
Way back in 2008 I was working on a tab of the James Bond theme and I'd reached that, "I hate this instrument, I can't play it, I'm going to throw it into the canal" stage. I was pulling my hair out trying to get it together (as you can tell in subsequent videos).
A few days later I was listening to music and Stevie Ray Vaughan's Look at Little Sister came on. I grabbed my ukulele and started jamming along to it. I was immediately refreshed and energized by it.
There's something about that combination of having just a few notes to choose from and complete freedom to do whatever you like with them that the blues gives you. It's exciting, inspiring and makes you feel like a rockstar.
The goal of the ebook is to give you the tools to help you do that too. So you can jam with friends, along with records or by yourself.
Side-note: check out what happens in that SRV video after he breaks a string in the solo.
What's In It?
To give you an idea, are the last two examples in the ebook which take some of the chord progressions, soloing techniques, licks and scales from it contains and combines them to make a short solo.
The A Blues
The C Blues
You can get a full run down of the ebook here. But here are the basics:
– Learn to improvise and jam in the blues style.
– Learn the most common blues chord progressions, variations and adaptations.
– Packed with ideas and techniques for blues soloing.
– Play riffs and licks in the style of blues musicians from Robert Johnson to Muddy Waters to Stevie Ray Vaughan.
– Blues chord patterns and strum patterns in a variety of styles.
– 123 examples all with mp3s and YouTube videos.
– 4 backing tracks to jam along with.
– Minor pentatonic scales and blues scales for every key.
– Contains chord charts and tab for re-entrant, C-tuned ukulele.
Buy It