Helen Arney will be doing some science explaining on her ukulele along with her nerd friends Matt 'Standup Maths' Parker and Steve 'Steve Mould' Mould on their new BBC Radio 4 show Domestic Science from the 20th July. You'll be able to listen on demand on iPlayer (wherever you are, I believe).
Last chance to get in on the Brexit sale. You can get 15% off any of my ebooks by using this code: brexit. If you prefer, you can also buy them on Payhip using PayPal in GBP (while it still has some value). No code on there. The price should be the equivalent of the USD price after the code.
New Releases
– Excellent debut album from Liam Capper-Starr: Needs More Cello.
– Ukulele Orchestra of Great Britain's new World War I album Lousy War.
– Grand Old Uke of York's cover EP Head out on the Highway.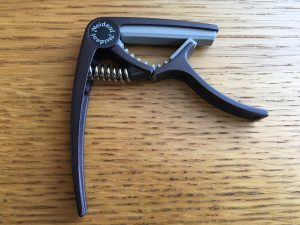 – The Burning Hell cover Men Without Hats to great effect.
– Kristen Wiig is working on a ukulele album.
An update on my capo post from a few weeks back. My clamp capo (the one I recommended) snapped in two this week. I still recommend that style of capo but perhaps go with a less junky brand.