The Magnetic Fields – '74 No (Chords)
There's a new 5 CD/50 song album from The Magnetic Fields on the way and the five tracks that have come out already have made me very excited for it. The standout track '74 No is great for uke too. All beginner chords. The strumming is trickier than the chords.
The only slight change is I've included a version of the F chord with the A-string played at the third fret. That makes for a nice transition into the C chord. But it's not mandatory. You can play the standard F and it'll work perfectly.
Suggested Strumming
Intro and outro The bars in the intro and outro are divided unevenly. So in the first half of the first bar you strum d u d u – u on the Am and a down strum on the G. And in the second half (still G) do – u d u d – d u.
All together it looks like this: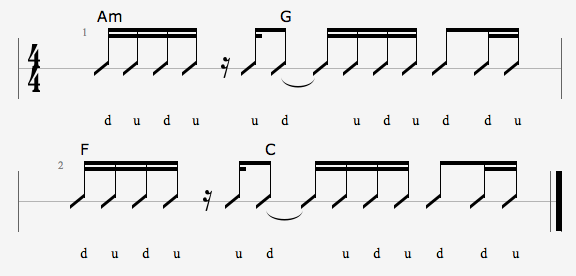 Verses 1, 2 and 5 I use the same strum for these verses but they'll divided up a little differently. So for the first two lines the C chord takes up the same strumming as Am and G in the intro strum. So it's like this: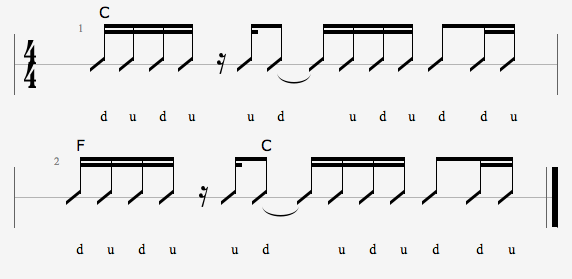 The third line goes back to four chords so you strum and change in the same places as the intro. And the final line is exactly the same as the intro.
Verses 3 and 4 Things get a lot more straight forward in the keyboardy verses. For those I just use this pattern twice for C and once each on F and G:
d – d – d u d u
Links
Buy it on iTunes
More Magnetic Fields/Stephin Merritt chords