There's a lot of talk about the ukulele making the world a better place. But one person who is really walking the walk is Laurie Kallevig. She set up and runs the Survivor Girl Ukulele Band which works with survivors of human trafficking in India.
They're currently Kickstarting a CD. The Kickstarter ends on the 2nd October and at the time of writing they've raised $6,400 of the $8,500 they need. If they don't hit the goal they don't get any of the money. So please do back them here if you can.
I caught up with Laurie to find out more about the project.
UPDATE: I just got this message from Laurie: "Just in, an anonymous donor will match all new and increased pledges on survivor girl ukulele band — the cd kickstarter up to $1000!!!" So if you get in quick any amount you pledge is going to be doubled.
What inspired you to start the Survivor Girl Ukulele Band Project?
Years ago I was traveling in Nepal and learned that each year thousands of rural village girls are tricked into leaving home with promises of a good job in India only to whisked across the border, sold into a brothel, and forced into prostitution.
This really bothered me, but I didn't have any way to get involved. Years passed but often I thought of those girls. Then in the middle of the night I woke up with the words "rescue and restore" in my head, and I knew I had to get involved.
I went to India and volunteered in the communications department of a number of organizations. And then one day I brought a guitar out to the field. What a blast! We sang a few songs and then the girls rushed up to hold the guitar, to strum it, and to ask how it works.
I knew I couldn't teach those small girls how to play a big guitar. So I decided to get a ukulele, learn how to play it, and then bring a bunch of ukuleles back to India and start a survivor girl ukulele band. And that's what I did!!
My main goal is to show these girls love. And ukulele is a great vehicle for that love.
Can you tell us a little about the problem of human trafficking in the area and what the girls have been through?
The average age of a trafficked girl is thirteen. And the numbers are staggering in India, where an estimated 500,000 underage girls have been forced into the commercial sex trade. There are many ways girls are tricked and forced into prostitution. Often they sold by family member or friend.
The most vulnerable come from poverty and have very little education. Some girls have been abandoned or orphaned. Some girls are HIV positive. Some girls are aggressive. But they all need love and opportunity.
One student said to me, "In my life, nothing good has ever happened to me. And then you came. Why didn't you come sooner?"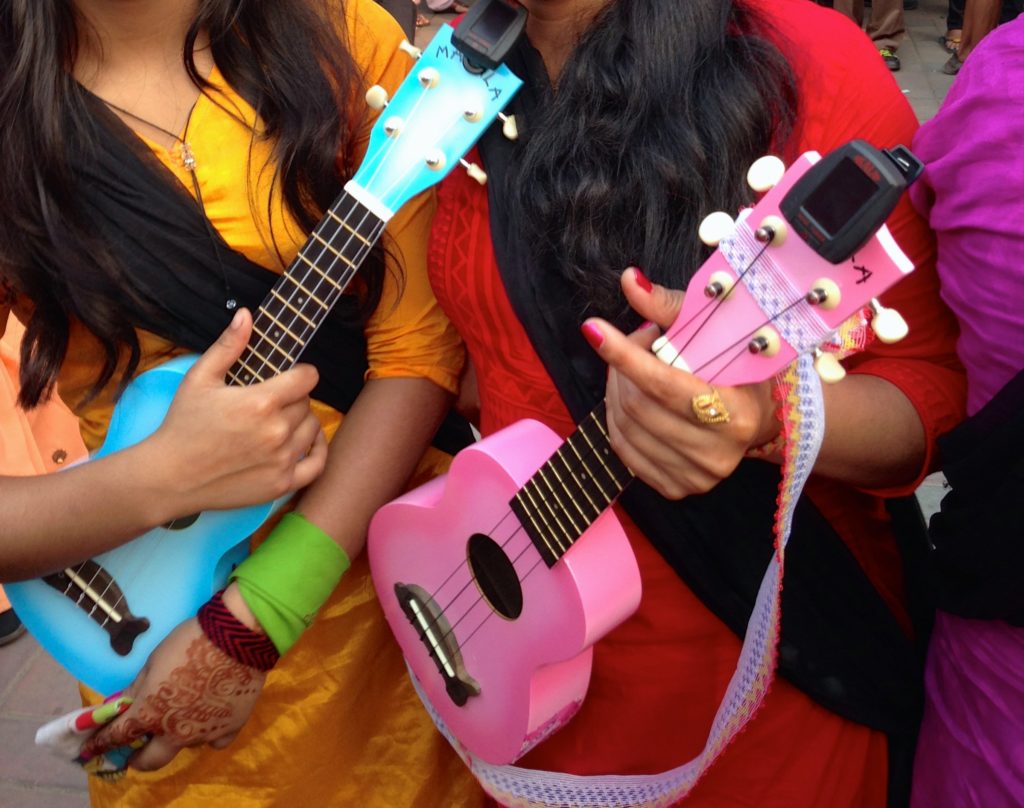 What impact does learning ukulele have on the girls?
There are so many positives in learning ukulele. They learn how to keep a beat, how to play with a partner, and to play in a group. All the while, they are learning how to learn.
And these girls, who are often seen as the bottom of their society — when they learn something new, and practice and practice, and then get to perform it for an audience, wow! it's so uplifting and empowering. After a big performance, one of the girls said, "I'm not alone anymore. I'm part of a band!"
Where can we learn more about your project?
There are some great stories and photos at my blog, workingdraft.me, and there's a lovely article written by Audrey Colemen in the Winter 2016 issue Ukulele Magazine.
What are your plans and wishes for the future of SGUB?
I'd love to have ukulele people from around the world learn about Survivor Girl Ukuele Band Project — and join the baaand!
Right now I'm focusing on "Survivor Girl Ukulele Band — the CD", and have brought about fifteen of my students in to the recording studio in Kolkata to record ukulele and vocals for four original songs. Sounds simple enough, but it was really really a challenge on so many levels. And so if we can get that funded and completed — it will serve as a huge accomplishment for the girls who have participated and also as a major inspiration for new students.
In addition, this last spring, I hired a former student to expand Survivor Girl Ukulele Band Project to two small shelter homes in Kolkata. This is her first real job, and she's my first employee! And next year I hope to expand the project to another large shelter home in Kolkata and maybe hire another former student.
I'd love to keep expanding the project through former students who then become teachers. My plans and wishes include launching girls who have almost no education into dignified and creative and fun careers — bringing restoration and hope to other survivor girls through the healing power of music and love. Wouldn't that be awesome?!
You can find out more about the Survivor Girl Ukulele Band at SGUB.org and, even more importantly, help them out and back their Kickstarter here.