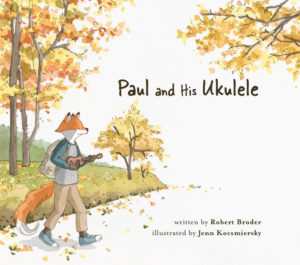 Paul and his Ukulele by Robert Broder is the tale of a young fox's travels with his uke.
Speaking of peripatetic ukers, the UOGB took time out of their US tour to play for an elementary school uke club.
Window Shopping
– The Southern Ukulele Store has some Pete Howlett Legacy Series ukes. The electric Fyrefly has me sorely tempted to turn from window shopper into actual shopper.
– I love the look of the Kala Ziricote.
– Kamaka HF-3D2I.
– Ana'ole AC-808 with Hawaiian island soundholes.