The Last of Us franchise has a habit of hitting my musical sweet-spot. I've already tabbed Gustavo Santaolalla's theme for the first game and Through the Valley from the first trailer for TLOU 2. Now the latest footage from E3 included Crooked Still's version of Little Sadie.
The song has been recorded by a pile of artists since it surfaced in the 1920s including Woody Guthrie, Bob Dylan, Jerry Garcia and Old Crow Medicine Show. But the 1970 version by Doc Watson is my favourite and the one I've written up.
Suggested Strumming
The chord changes in Doc Watson's version are fairly unusual. The weirdness starts straightaway with the opening Dm chord immediately switching to F. And it includes one bar of 3/4 on the A7.
The main strum itself is simple:
d – d u
Here's how it fits the chords:
Dm: Once
F: Twice
Dm: Once
C: Three times
Am: Once
C: Four times
A7: Three times
Dm: Four times
This is how it sounds slowed down then up to speed:

Strum
Twiddly Bits
Here's a ukulele version of the guitar part from the intro and after every other version. Thanks to the A note at the bottom I'm playing this on low-G ukulele.
The solo uses the D dorian mode for most of its length. Don't panic if you're unfamiliar with it. It's the same notes as the C major scale. Playing those notes in the key of D gives you a minor sounding scale (the only difference with the minor scale is a major 7 instead of minor 7 note).
The exception to this is over the A7 chord where Ab and Bb notes are introduced.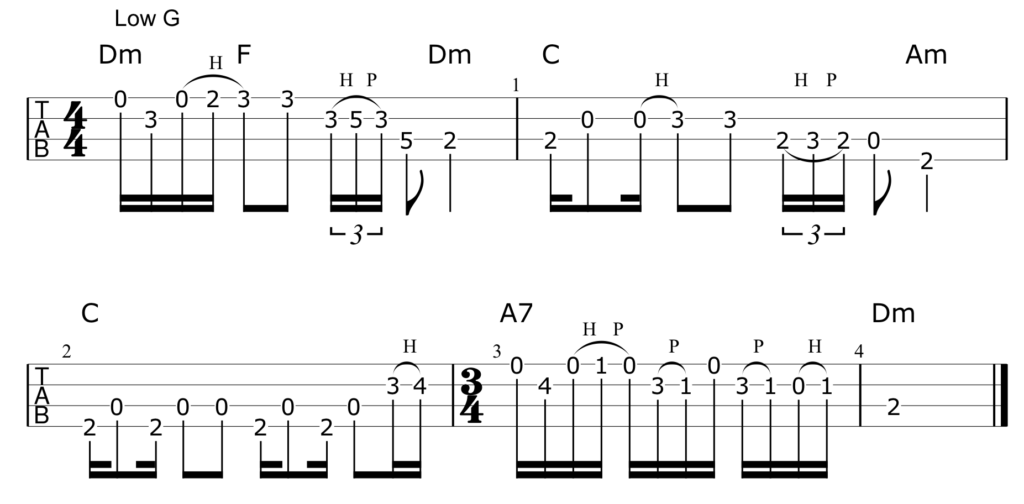 Links