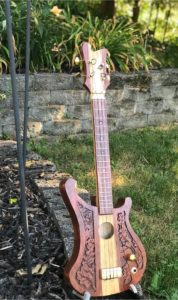 Videos
– Penn Jilette and Piff the Magic Dragon sing the Dragon Song.
– UkuRobot.
New Releases
– Brit Rodriguez's album of children's songs (plus a fantastic Daniel Johnston cover).
– Debut album from uke-picker Mike Haysom.
– Ukulele Glue from Kara Square and ccMixter.
– Herman Vandecauter has released a new batch of expertly played pieces on the machete.
Window Shopping
– RIGuitars Motorhead style ukulele.
– Go the way you believe is right.
– 1920s Gibson Uke 3.
– 1930s dobro and 20s electrified soprano.
– Pelem guitarlele.
– G String soprano.