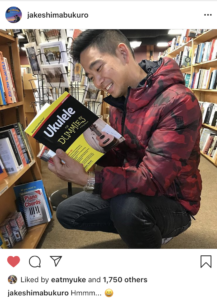 Jake Shimabukuro has revealed the secret to his virtuosity.
A piece by David Farrier (the documentarian behind Dark Tourist and Tickled) on a guy who went viral after being snapped playing ukulele for his humping dogs turns completely insane.
The Royal Philharmonic Orchestra are worried that ukuleles are so popular that no one will play other instruments.
New Releases
– Professor Ogma has an excellent instrumental debut EP on his website or on Spotify. (If you've been paying very close attention you might know him as Matthew Brian Kirkland.)
– New Craig Robertson album: CROOKED.
– New rajao tracks from Herman Vandecauter.
Window Shopping
– Aaron Keim master grade myrtle tenor.
– Ka'alla soprano KU 25S.
– 40s Martin 3M.
– Emerald harp ukulele.