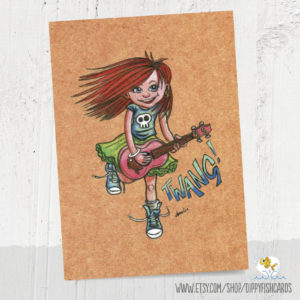 A highly-entertaining and informative episode of Abe's Ukulele Show with Christopher Davis-Shannon. And Ukulele is the New Black catches up with Uke Hunt favourites Jim Boggia and Molly Lewis on the JoCo Cruise.
Amelia Clark (maker of this Uke Hunt inspired Christmas card) has released a ukulele girl birthday card.
On Video
– Bud Sugar visit Gambia and make a fantastic documentary.
– Anderton's try out some ukuleles.
– Ukulele made of thousands of pencils.
Window Shopping
– 1920s Rexcraft uke made of sheet metal.
– Big Island HONU solid body electric.
– Kiwaya x Kurosawa Music Shop 60th Anniversary Model.