Olivia Colman and Phoebe Waller-Bridge hooked up to cover Portishead's Glory Box for Children in Need. The charity album also closes with a ukulele version of Madness's It Must Be Love.
Catch up on this year's ukulele releases with my Ukulele 2019 Spotify Playlist.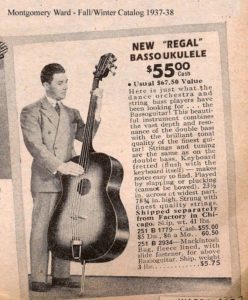 Window Shopping
– Custom uke with wave art by Eddie Vedder.
– Breedlove private reserve tenor.
– 1920s Conservatory Soprano Ukulele
– The original bass ukulele.
– Kiwaya Seilen SLS-275HV.
On Video
– Circuits and Strings builds Kristoff's ukulele from Frozen.
– Laura Currie documents her tour of China with the Ukulele Orchestra of Great Britain.
– Maso Rivera rocks out on a tiny cuatro.
– Playing ukulele on a flight.
New Releases
– Emisunshine and the Rain's Family Wars.
– Might Never Happen from Phil Doleman.