New Astraluna EP The Pass Of Storms
On Video
– 1960 interview with jazz and blues ukulelist Lemon Nash.
– Germany's ukulele-heavy Eurovision entry.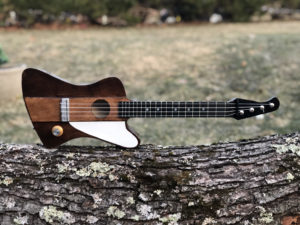 Pictures
– @ukeist has been posting some great pictures recently including Charles "Ponzi Scheme" Ponzi and Schoonmaker's Drugstore 1931.
– Ukulele Ike with Buster Keaton and Sally Eilers.
Window Shopping
– Johnny Winter inspired Firebird Ukulele by RIGuitars.
– 60s Kamaka Tiki uke with a tiki-guy on the headstock.
– Cheekily branded Y'Ke Ke ukulele from the 1930s.
Patreon
A massive thanks to Uke Hunt's Patreon backers for keeping the site up and running. And double thanks go to March's Tenor backers:
– Arthur Foley
– Ben Beckwith
– Colleen Petticrew
– Dan
– David Burt
– Elizabeth Beardsley
– Fiona Keane
– Jeff K.
– Katherine Penney
– Kie77
– Leia-lee Doran
– Lisa Johnson
– Margie Peres
– Mr Daniel Barclay
– Nick Parsons
– Olga deSanctis
– Pat Weikle
– Pauline LeBlanc
– Sandi Clement
– Suzy Cramer
– Thorsten Neff
– Trevor Mccravy