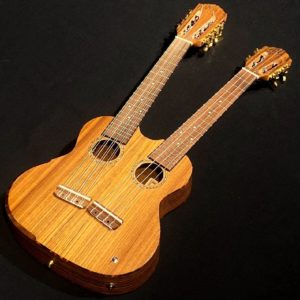 Beau Hannam adds an understated whammy bar to a uke.
Debut album from the ukulele duo Moon Berries aka Charlotte Pelgen and Sage Harrington.
Returning a ukulele to the shop 100 years after it was bought there. (Plus a tour of Leeds and a quick history of Kumalae.)
Window Shopping
– Pelem tamarind wood guitarlele
– Double Neck Ortega Hydra. And in case two necks isn't enough for you.
– The nutso-shaped Enya E5.
Patreon
A massive thanks to all Uke Hunt's Patreon backers for keeping the site up and running this month. And double thanks go to these legendary patrons of the arts:
– Arthur Foley
– Colleen Petticrew
– Dan
– Dennis Boutsikaris
– Elizabeth Beardsley
– Jameson Gagnepain
– Jeff K
– Jon Kenniston
– Kelby Green
– Kie77
– Lisa Johnson
– Monika Kolodziejczyk
– Moses Kamai
– Nick Parsons
– Pat Weikle
– Pauline LeBlanc
– Robert
– T S
– Thorsten Neff
If you join Patreon at the Concert level or higher, you'll get access to all previous exclusive tabs including July's: Paul Simon's Call Me Al.