The internet's number one source for ukulele tabs, videos, and education, UkuleleHunt.com, now has an app filled to the brim with ebooks and tabs! You'll have access to everything you need to know about playing the ukulele wherever you might want to take it. Whatever your experience level, you'll find plenty to expand your repertoire, perfect your playing and entertain anyone who cares to listen.
This app includes:
– A free guide for people who have just bought their first ukulele.
– Free guide to learning to read ukulele tab with videos, audio and pictures to guide you.
– Free tabs from simple melodies to tricky, intricate arrangements.
– Piles of easy to play tabs for Christmas songs to get through the holiday season.
– Learn to strum like a pro. Play 49 different strums for all occasions and learn when to use each pattern.
And loads more.
Whether you're trying to get your ukulele playing off to a quick start or looking to improve your technique and learn new tunes there's something here for you.
Choose from a wide range of guides and tabs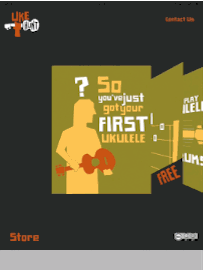 Read the tab and listen to the music at the same time
Watch the examples being played