Before we get down to business, Guitar Center are having a bit of a Black Friday blowout. Buy today and the code SAVE15 will get you 15% off (it doesn't work on all ukes, but it does work on the Cordoba, Mitchell and Applause). They're also advertising 10% on Saturday and Sunday with the coupon SAVE10, but you should be able to get the same deal all the way up to Christmas with the code TENOFF.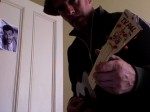 If you're looking to build yourself a GUGUG style ukulele collection, the first thing you'll want to do is stock up on plastic ukuleles. And you can usually pick them up on eBay fairly cheaply.
Right now there's this TV Pal and this Flamingo.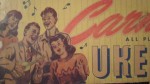 With plastic ukes, you get extra marks for the original box. This Carnival comes with the original box – a different design to the GUGUG Carnival box (left).
As for non-plastic ukes, I only remember seeing Gus play two: the wildly extravagant Swinging Treholipee (as seen in the Daydream Believer) and a Bushman Jenny.
Fin's collection, on the other hand, is much easier and cheaper to replicate. All you need is a red Mahalo and a Stagg.
Also on eBay this week…
Mahalo have started making a guitarlele. Very strange body shape and the sort of rock bottom price you'd expect from Mahalo.
Ukulele necklace.
Ukulele kitsch of the week: ukulele shades.