There seem to be a few British comedians playing the ukulele: Phill Jupitus, Frank Skinner, Lee Evans, Harry Hill, Michael Legge (more on that below) and Russell Brand. Some of them are more competently than others. Phill Jupitus is definitely one of the more dedicated ones. He's often seen with his uke and showed up at the London Uke Festival.
He also uses it as backing to Stephen Fry's cozy Phill and Phil's The Perfect Ten. But, apparently, he doesn't know what chords he was playing. Which is why Sean requested it.
The theme is just these four chords over and over:
G Gdim C6 D7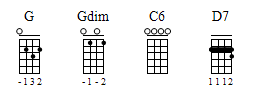 The version on the show is tuned down half a step (f#BEbG#).
Requested by Sean.
Ian Emmerson – Precious Little Theme (Chords)
Ian Emmerson – Precious Little Theme (Chords)
Michael Legge and James Hingley's Precious Little Podcast features quite a bit of ukulele. Legge uses it as punctuation. He did the show's original theme tune as well but Ian 'Re-Entrant' Emmerson found it so terrible he recorded a new one (using the 5 Foot 2 chords). Which is a bit harsh. He might not be the world's greatest uker, but he does shout 'Uke Hunt' at regular intervals in the show. So he's obviously a big fan.