Kermit the Frog – Rainbow Connection (Tab)
I've been meaning to do an instrumental version of this Muppet song (written by Paul Williams and Kenneth Ascher) for ages. It's a lovely little tune and I've kept things as simple as I could.
After the intro, there's no fancy picking at all. It's all done with the thumb.
Intro
If you want a simple, thumb-playable version of the intro you can use this: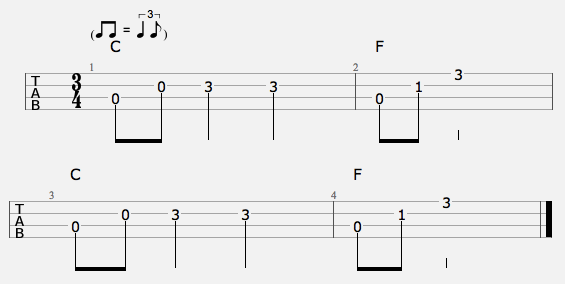 Bars 7 and 8
Changing the fretting on the C-string from the middle finger to the index finger should make it easier to reach up to the fifth fret with your pinky.
Bars 11 and 12
Keep the notes in brackets soft. You can throw in a bit of fancy filigree here if you like but make sure it's quiet enough so it doesn't overpower the melody.
Same deal in bars 19 and 20; and 27 and 28.
Bars 21 to 24
Keep the fifth fret barred with your index finger.
Bars 31 and 32
I found this to be the trickiest move in the whole tune. Try keeping the fifth fret playing for the last note but start moving your other fingers ready for the A chord.
Melody Version
Rainbow Connection (Melody version)
Here's a melody only version for you to do with as you wish.