Lyle Lovett – God Will (Chords)
I absolutely love Lyle Lovett's understated humour. And he's written some of my all time favourite songs. So it's well past time I wrote up one of his songs.
Suggested Strumming
God Will is in 3/4 time. Here's a 3/4 time strum you can use almost all the way through:
d – d u d u
Intro/Chorus/Solo: Do the main strum once for each chord. Until the fast Bb – F – Gm move where you do one down-strum per chord. Here's how that goes:

Verse Strum
If the fast chord changes are too quick you can just play the main strum on Bb through that change. And if it's not enough you can go back up (as he does in the final chorus) and play Bb – F – Gm – F – Gm – F.
Verse: When the line has a Bb – F change do the main strum once per chord. Everywhere else do it twice per chord.
Twiddly Bits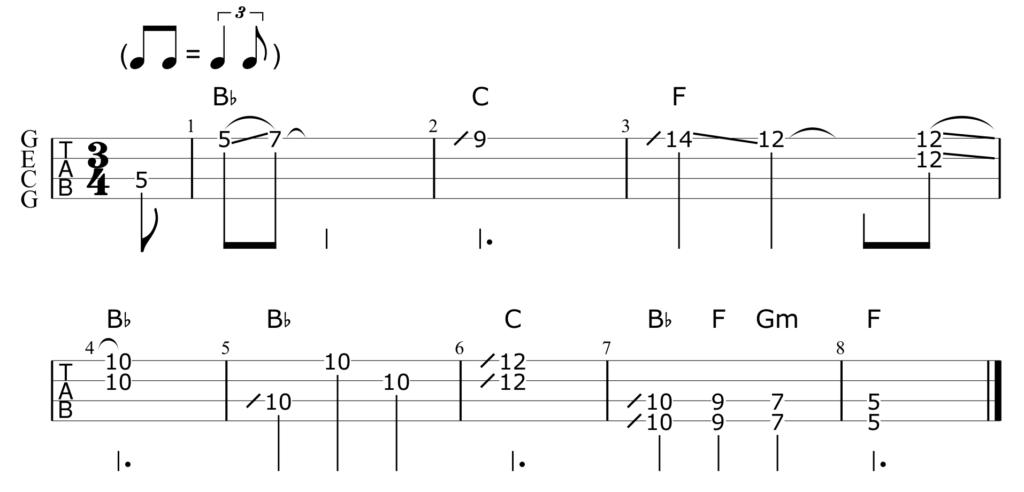 Here's a slide ukulele part based loosely on the steel guitar intro and solo (I wrote an ebook about playing slide ukulele if you want to learn). The main tip is to mute every string you're not playing so you don't hear anything you're not supposed to.
I'm using open-C tuning which means you tune the A-string down to G.
Links