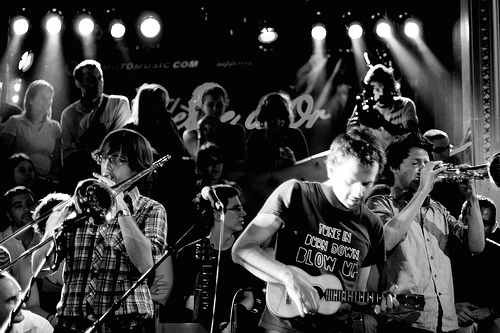 Beirut's debut album Gulag Orkestar and single Elephant Gun established Zach Condon as one of the biggest stars of alternative, indie ukulele. On his new album, The Flying Club Cup, he delivers only two new uke heavy songs – The Penalty and St. Apollonia – but both are instant classics.
The new album suggests that Beirut's music is making a steady drift westwards and forwards in time: from Beirut, to traditional Balkan music, to early twentieth century French. Flying Club Cup is packed with accordion waltzes, chanson strings and French song titles. The concept behind the album is that of a balloon race with each song representing a flying over a different French

city. The concept, fittingly enough, doesn't weigh the album down but gives it continuity and an atmosphere.
The sound of the album is noticeably larger and more cleanly produced than Gulag. Whereas Gulag Orchestar was recorded in Condon's bedroom, Flying Club Cup was recorded in the Arcade Fire's church come studio. Whereas Condon recorded Gulag Orchestar alone, Flying Club Cup features the eight regular touring members and string arrangements by Owen Pallet (Mr Final Fantasy). The album is very much in keeping with the move towards grandeur and intricacy in indie music at the moment.
There are two things that haven't changed: Condon's acquired taste of a voice and the risk that at any moment the whole thing could crash over into pretentious, student-railcard music. But the songs are strong and regular moments of absolutely gorgeous sound (the opening of Forks and Knives, The Penalty and Cliquot) that you are quickly distracted from the possibility.
Overall, eight thumbs up.
At the current rate of geographical and chronological trajectory, I estimate that the next album will be based on 1940s England. So the next Beirut album is like to have an Arthur Askey vibe to it. Can't wait.
Tab and chords for The Penalty, St Apollonia and more Beirut.