I'm back a little early. There's news to be newsed. Over the break I had to take the fancy rotating banner off the front of the site. It was bringing the whole site crashing down every couple of weeks so it had to go. It was very pretty but a whole heap of trouble (like a few girls I could mention).
Windy City Ukulele Festival details.
I've had a few people ask me various questions about playing with others and in uke groups but – being an anti-social loner who avoids human contact at all costs – I've never been much help to them. Now I can point them towards Play Well With Others. It's a book and website giving advice on jamming which boasts endorsements from Janet Klein, Jim Beloff and Lil Rev. It's also a handsome looking site.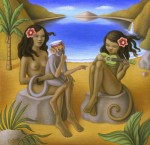 Amy Crehore is selling 50 signed prints of 'The Creature'. You can pick up yours here.
Seeso and Clara Belle featured on Boing Boing (thanks for the mention, Seeso).
MP3s: I've mentioned foggy ruins of time many times in this section. The guy behind it has released an EP, under the name Existential Hero, featuring his bariuke. You can download the whole thing here. songs:illinois has Jenny Jenkins.
Uke chords on posters: officially a good idea. Shelley 'Uke Box' Rickey features Kokomo on her poster (and some not safe for work material – what is it with ukes and nudity?)
Paul McCartney reprises his ukulele version of Something at the Anfield gig plus a quick burst of When I'm Washing [sic] Windows.
Isaac was a little disappointed not to win Ukulele Review's contest and came up with this (inspired by Cyanide and Happiness). Click to enlarge.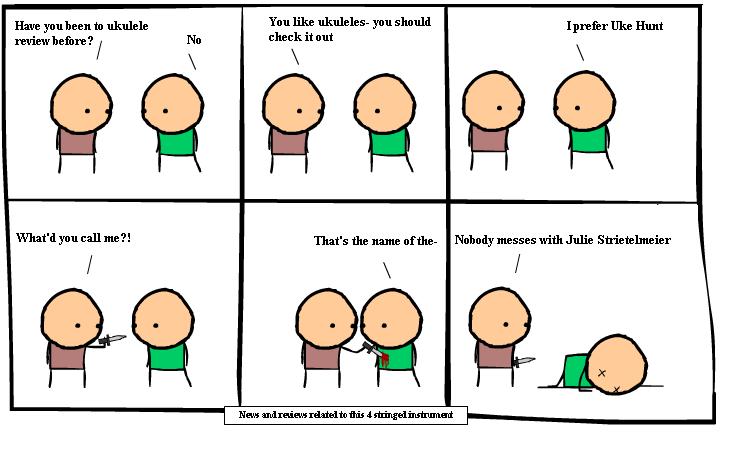 Vote for the song you want Fin Raucous to play in his shed.
Rebekulele: a cross between a ukulele and a rebec.