Winter Wonderland (Chords)(PDF)
Another Christmas song with no reference to Christmas in it but I loved the version by keonepax with Bosko and Honey I had to write it up.
In the chord chart I've shown the chord inversions that keonepax is playing, but it's great to mix them up with other inversions. Here are a few possibilities.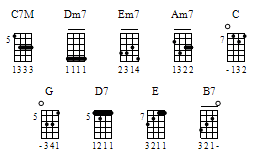 In the solo Bosko is using quite a few sixths:

And finishes of with a cool little variation on the Hawaiian turnaround. Here's my take on the same idea:


MP3