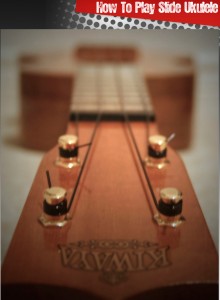 I couldn't take a look at Robert Johnson without covering slide playing. And using the slide on the ukulele seems to be a trend of late. Just in the last few months I've seen videos of it used by James Hill, Tomotaka Matsui (of the Sweet Hollywiians), Peter Madcat Ruth and plenty of other people. And it's not hard to see why. It's a lot of fun to do, you can pick up a guitar slide very cheap from almost any music shop (or on eBay) and, once you've got the basics under your belt, it's a very intuitive and natural way to play.
The only problem is there aren't any materials out there for people to learn it. So I've put together a mini-ebook outlining the tricks and techniques for slide playing with videos, photos, tabs and mp3s.
It's focussed on the lap style of playing (that James Hill and Tomotaka Matsui are using) but, since I'm assuming you don't have one of the world's three Beltona lap steel ukuleles, it's geared towards doing it on a standard ukulele (and re-entrant tuning).
Here are a few of the longer examples from the book:
Blues Flavored Tune

MP3
Blues Riff

MP3
Island Flavored Tune

MP3
The ebook focuses on techniques more than tabs, so it's not really suitable for people who are new to the ukulele. I had in mind that it would be good for people who had read my blues ukulele ebook (or who were familiar with that sort of thing) and wanted to start playing around with the slide and improvising with it.
How to Play Slide Ukulele

Price: $7
If you haven't bought one of my ebooks before, check out my FAQ page to find out the process. If you have any other questions you need answering, you can contact me here.
Slide Ukulele Tips
For those of you that don't want to shell out for the ebook, here are the top tips to get you started:
Find a uke with high action: If you use one with low action, you'll always be clattering the slide against the frets. If you plan on doing a lot of slide work, it might be worth raising the action on one of your ukes.
Muting: The most important part of slide playing. Make sure you mute the strings behind the slide with your fretting hand or you'll get all sorts of nasty overtones. You'll also have to mute the strings that you don't want to sound with your picking hand.
Use an open tuning: You can only play one fret at once, so it helps to tune it to an open chord. I started out with open C tuning – GCEG – but decided it was a waste having two strings tuned the same (cutting down your note choices even further). In the end, I settled on C7 tuning: GCEBb (i.e. the A string tuned up one fret).
Over the frets: Rather than putting the bar where you would if you were fretting the uke normally, you have to place it right over the frets themselves. And make sure that the bar is parallel with the frets or some of the strings will sound out of tune.
Play very lightly: You don't want to be pushing down on the slide at all.
Upright or Lap: If you want to play fretted notes as well as slide notes, you'll have to go upright. But I prefer playing lap style – it allows for some slide techniques that you can use when you're playing it upright.
How to Play Slide Ukulele

Price: $7