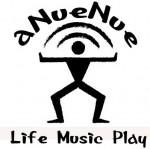 I often look at the ukulele scene in Japan with envy. Shigeto is kind enough to send me copies of Japan's Ukulele Magazine. My Japanese isn't great so I spend my time gawping at the strange and unknown ukuleles on its pages. They're made by companies that are a complete mystery to me: 'I'Iwi, Tsubame, Shiihara.
So when one of the companies aNueNue (based in Taiwan) got in touch with me (via Bosko and Honey) to tell me they were going international I took the opportunity to find out more about them.
Full disclosure: aNueNue have sent me one of their ukes to test out which I'll be reviewing before too long.
How long have aNueNue been making ukuleles and how did you get started?
It all started in summer of 2007, we got into the idea of building a ukulele brand. We spent months of research in designing the brand. We finally agree to use Rainbow Man, a well known Hawaiian petroglyph. The rainbow arc above the man's head shows that he radiates wisdom or power and shoulder to responsibility. He is the keeper of the land and its people. We are all responsible of protecting Mother Earth.
aNueNue means rainbow in Hawaiian. Pronounced as ""Ahh nu way nu way."
"The philosophy of aNueNue Ukulele is Life, Music, and Play." This little instrument has changed many people life entirely, in both music people listen to and music people play with.
We have years of experience in building good classical, acoustic guitars, and ukuleles.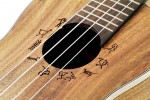 We bought solid koa and mango wood from our friend in Hawaii. We handmade the first ukulele in tenor size by chisel and scrapers. We then build the next 12 samples in all ukulele sizes in mango, mahogany, and koa wood.
We then design the Lani Series (meaning Heaven) and Papa Series (meaning Earth).
What sort of players are your ukuleles aimed at?
Whether you are a beginner, a hobbyist, or a professional musician, we have designed various models to fit your needs. If you like rhythm playing, you can consider our soprano models. If you are a fingerstyle artist, you can look into our tenor cutaway model. We use Fishman USA pickups exclusively for amplification.
What separates aNueNue from other ukuleles?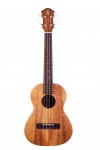 Our passion for quality ukulele has provoked a strong focus on customer experience, brand building and the impact that customer service, artist relations and music has on people. With our expertise and years of experience in the musical instrument industry, we have focused our passion to bring you the World's best ukulele.
What do you think makes a great ukulele?
Good season wood, brace system, volume, light weight, string, stable tuners make a good ukulele. It's all part of equation. There's a fine tune between over-built and under-built. We are still learning something new every day on how to make great ukulele. I can tell you we are experimenting a lot inside this little box.
Visit aNueNue's website