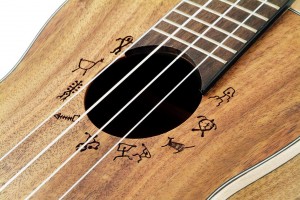 Before you read this review, you should know that aNueNue sent me this ukulele to review for free. I'm anyone's for a bag of Wine Gums, so feel free to take this review with whatever degree of salt you see fit. They asked me which of their ukuleles I'd like to review. My initial reaction, of course, was, "The most expensive one." But I realised that you can tell a lot more about a ukulele maker's prioritise by their less expensive ukuleles. So I opted for one of their 'beginner grade' ukuleles (yes, I really am that stupid).
So after giving the aNueNue Lani II a good going over (and many hours spent singing 'a-nu-way-nu-way oh baby' to the tune of Louie, Louie) here are my impressions.
Stats
Size: Concert
Construction: Laminated Koa
Fretboard: Rosewood
Neck: Mahogany
Frets: 20 (14 to the body)
Tuners: Open, geared Grover 9N STA-TITE
Finish: Matte
List Price: $278
The Sound Tests
Strumming Test
Strumming Test (MP3) – Sister Kate
Picking Test
Picking Test (MP3) – Larry O'Gaff
Intonation Test
Intonation Test (MP3) (12th fret harmonics followed by fretted notes)
The Good Stuff
Construction: It's a very nicely put together piece of kit. They obviously take a great deal of care with the construction because it's faultless. The usual areas where things get a bit messy (when the fretboard meets the body, inside, around the soundhole) are perfect.
Playability: It's a very easy uke to play. Well set up. The feel of it is very slick and the action is very low (lower than I prefer but right for most people's preference).
It plays well all the way up the neck, there are no dead frets, the sustain is impressive and the intonation is spot on.
The Look: The wood looks beautiful and the design is appealing. I love the shape of the headstock and the little petroglyphs are cute.
The Not So Good Stuff
It's Laminated: Compared to solid wood ukueles in the same price range, the sound of it is a little disappointing; slightly muddy. It doesn't have the punch I like from my ukuleles. I do get a better sound from my Kala and Ohana than I do from the aNueNue. But neither of them are made with anything like the care and attention to detail that the aNueNue is (the Ohana looks positively slap-dash in comparison).
It's an inevitable trade-off and you'll have your own priorities.
Conclusion
The aNueNue Lani II is massively ahead of the usual laminated, beginner ukuleles. Easily the best I've ever tried. There's absolutely no compromise on the quality of the construction and it plays beautifully. They're obviously not willing to cut corners in quality for the sake of a lower price. It's just a matter of whether you want to make that same judgement.