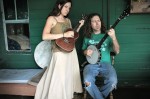 One of the most pleasing aspects of the whole 'New Weird America' genre is that it's made it okay to play instruments that aren't guitar, bass or drums. It's still labelled 'weird', of course, but there are an increasing number of bands stretching out the instrumentation. One such band is Arborea. They use banjos, dulcimers, a combination of the two, and ukuleles. And they were kind enough to let me share the ukulele track from their new album House of Sticks.
Which is just one reason why you should support their Leaves of Life project which brings together the toppermost alterna-folkies – including Devendra Banhart, Alela Diane and Rio En Medio – to on one album to raise money for the UN's World Food Programme and Not on Our Watch.
You can buy it on Darla, on iTunes, on eMusic and on Amazon. Essential Tracks: Alela Diane's Cuckoo, Rio en Medio's Mary, Denise Dill's Work, Work, Work.
Visit Arborea on MySpace and buy House Sticks on Amazon