Warning: Bad words abound.
Cee Lo Green – Fuck You (Chords)
I've resisted calls for posts on recent YouTube phenomenons Double Rainbow and Bed Intruder (because A Glorious Dawn is the pinnacle of autotune). But I had to do a post on Cee Lo Green's new song. Partly because it's packed with expletives (it's not even the first time I've put up a song called Fuck You). But mostly because it's a cracking tune and it's finally given blokes their own I Will Survive-type break-up song.
Suggested Strumming
Here's the strumming pattern I like to use for most of the song:

The only exception is the middle section where I just use one strum for most of the chords. At this stage, I should admit I'm not 100% sure of the chords in that section.
The guitar part works pretty well on the uke. Use these inversions of the chords: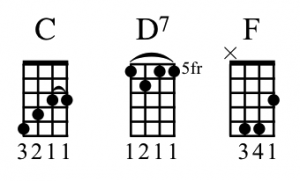 And this strumming pattern:

Twiddly Bits
If you want to ape the bass/piano run-ups, try this:

Requested by Larry.