Sufjan Stevens – Lumberjack Christmas/No One Can Save You From Christmases Past (Chords)
You can always rely on Sufjan Stevens to release a few Christmas songs each year. But he's really outdone himself this year with a giant collection of Christmas songs including a couple with ukes. Obviously it's got some filler in there, but I think I'll be playing this a fair amount this year. And if you don't want to buy it yet you will do after you've watched the ads.
The Lumberjack Christmas part of the song is a pretty simple hoedown but things get a bit difficult in the second half. I've split the chord sheet into two and I've included different inversions of some of the chords for the second half (and I've missed off the piano outro).
Suggested Strumming
For the Lumberjack part, do this twice for every chord:
d u D U d u D U
Slowed down a bit, it sounds like this:

Strum MP3
With the emphasis on the capitalised D and Us.
For Christmases Past you can switch to a laid-back half-time strum and use this:
d – d u d u d u
Which sounds like this:

Strum MP3
Twiddly Bits
Here's a version of the guitar and uke intro combined:

And you can play the fiddle bit that comes after that like this: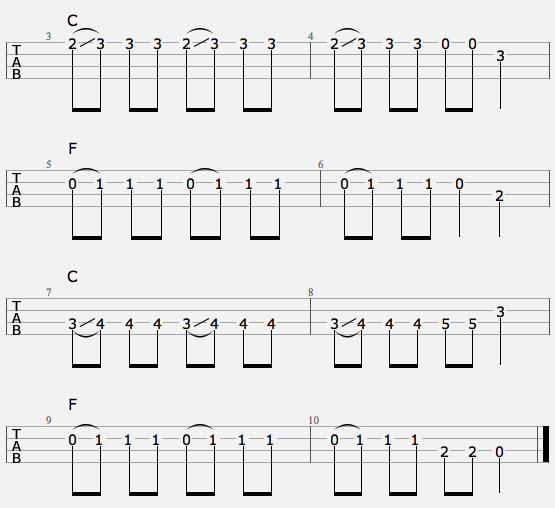 Here are those two parts slowed down a bit:

Intro MP3
And there's a ukulele in the background of No One Can Save… doing this with varying degrees of loudness and softness:


Twiddle MP3