Daft Punk – Get Lucky
I was humming and hawing over whether to write Get Lucky up until I heard Will Grove-White's awesome ukulele version. Both versions are in the same key so you can use these chords to play along with either.
Suggested Strumming
Nile Rodgers's funky rhythm part really makes the song. There's a lot of variation in the strumming but I like to keep a constant semiquaver strum and mute most of the strums.
Here's the basis of the strum I use with the muted strums as Xs:

Here it is played at half speed:

Strum Slow
And up to speed:

Strum Fast
Once you've got it under your fingers try out a few variations.
Twiddly Bits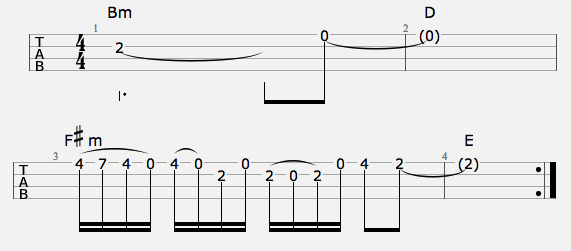 The little solo at the end is very tricky to play up to speed. Here's my best crack at it.

Outro Solo
Links
Buy the MP3
WillGroveWhite.com
Harder, Better, Faster, Strong chords
Le Freak riff