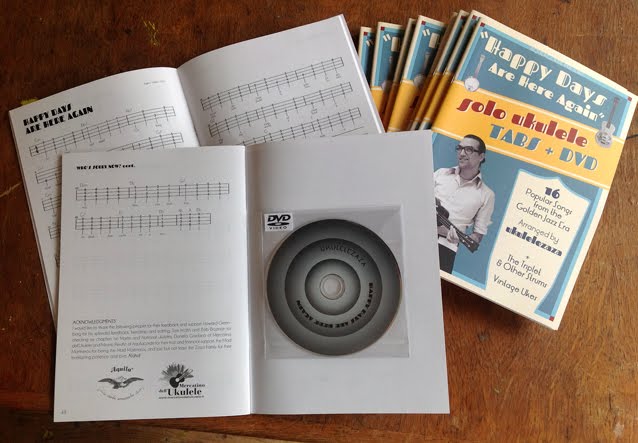 I've long been a fan of ukulelezaza (aka Remco Houtman). In fact he was in the third ever UkeTube in 2007. Back when MySpace was the obvious place to link to. So I was very excited to try out his tab book Happy Days are Here Again. Which Shelley of The Jumping Flea Market was kind enough to send me.
What You Get
A book containing:
– Tabs (no standard notation) for 16 tunes:
Bei Mir Bist Du Schön/Für Elise – Caravan – Drifting and Dreaming – Freight Train – Georgia On My Mind – Happy Days Are Here Again – Home – I Surrender Dear – Margaret's Waltz – On The Sunny Side of the Street – Pa'au'au Waltz – Painting the Clouds with Sunshine – Sweet Lorraine – When You're Smiling – Who's Sorry Now?
– Descriptions of the techniques used in the DVD.
– Two-page histories of Martin and National ukuleles (used in the DVD) and shorter descriptions of a few other ukuleles.
A DVD containing:
– Performances of all the pieces (in a more ornamented fashion than they're tabbed).
– Short demonstrations of the techniques described in the book.
The Good Stuff
– Having a Style: The biggest lesson I took from the book was an abstract one. The tabs as they're presented in the book are really straightforward. Then for the DVD he pours that ukulelezaza-sauce all over them. He has a jazz-ear style, sound and set of techniques that make his playing immediately identifiable. I admire that because I feel like I don't have a style at all. And it was interesting to watch him transform the simple arrangements.
– Clean, Simple Arrangements: All the tabs are simply arranged. Mostly combining single notes for the melodies with chords. If you wanted to play them straight they're comfortably in an intermediate difficulty.
– Concise Tutorials: The tutorial bits in the book and the DVD are short and to the point. The trend on YouTube seems to be for long, boring ukulele tutorials. I'm much more into doing things the concise way.
– Well Presented: The book is nicely laid out with easy to read tabs and (black and white) photos of vintage ukuleles for some eye-candy.
The Not So Good Stuff
– Tab/DVD Differences: It's my favourite aspect of the book but I know from experience some people are going to be really annoyed by that the tabs don't match his performance. They're just the basis of his version.
– Nitpicking: There were a few points in the book fingering suggestions would have been useful but I picked it up from the videos. And DVD menus are never a pleasure to use.
Overall
If you're a fan of golden era jazz and that style of ukulele playing the book is a must. Ukulelezaza is a master of that style and this is the best book around on that style.
Links
You can buy Happy Days are Here Again at The Jumping Flea Market's Etsy for £11.59 (or the equivalent where you are).
ukulelezaza on YouTube