Another intensely creepy song from Screamin' Jay Hawins (whose Whistlin' Past the Graveyard I chorded for an earlier Halloween). And I've gone with Nina Simone's bewitching version for the arrangement.
Although I've used the A chord shape for the F#m7 to keep things simple, I do like to switch it up and use 2424 or 2420. Particularly for the F#m-F#m7-Bm move.
Suggested Strumming Pattern
I keep it really simple and play just down-strums the whole time.
Intro: Two down-strums per chord until the final C#7 where you play four.
Verse 1: Starting out as the same first line as the intro. For the next five lines do four down-strums each chord except eight on the C#7. Then two on everything until the last C#7 with four.
Solo: Same as the first half of verse 1.
Verse 2: Four down for every chord in the first four lines. Two for each on the fifth line. Then one each on the last line letting the C#7 ring out for the 10,000 syllables she manages to get out of the word "because".
Twiddly Bits
Here's a uke version of the strings in the intro of the song.
You can also use this as a basis for the solo. Just watch out for the F#7 chord. I'd recommend playing notes from the F#7 chord itself in that bar.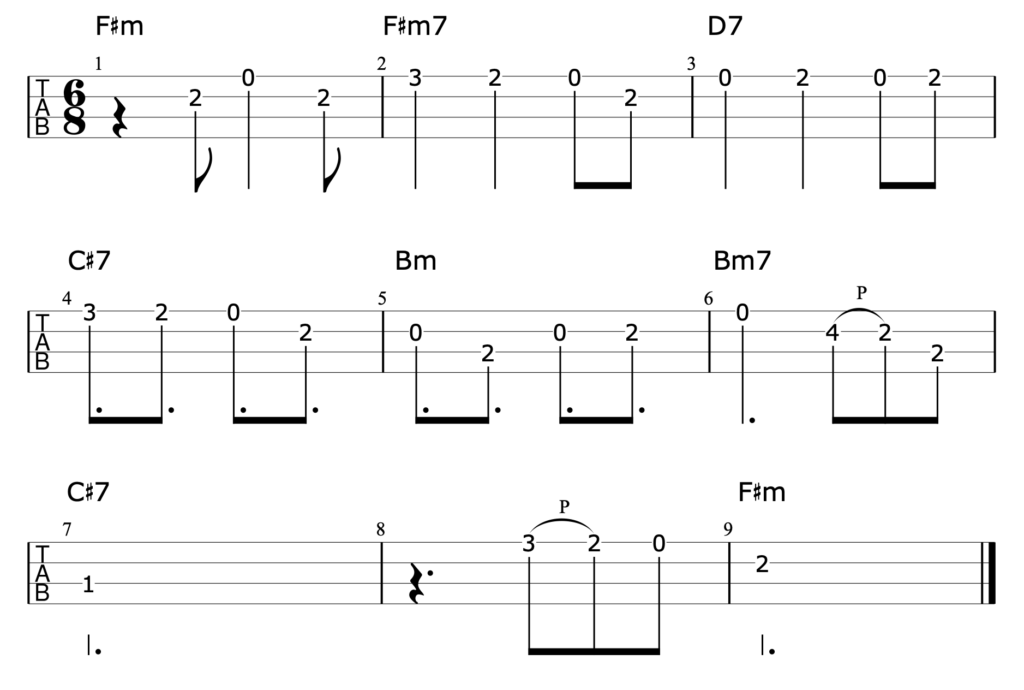 Links