An intro acts like an ice breaker in a conversation. They get people's attention, set the mood (usually by establishing the key and the tempo) and set people at ease that you're not some nutjob Ukip supporter. There's a bit of a tension there between being interesting and setting your audience at ease. A good way to achieve that is to take a familiar intro and mix it up a bit.
To that end, here are the five best old school ukulele intros. They're all in the key of C but the ideas can be transferred to any key.
Intro 1: The Traditional Ukulele Intro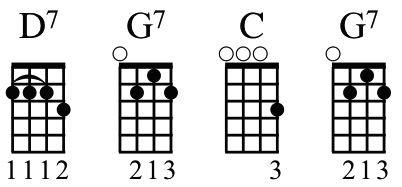 D7 – G7 – C – G7
This is the classic intro. It does a great job of setting up the the song. The opening two 7 chords create a bit of drama and – because the 7 gives them an unsettled feel – they're pushing towards the C chord and setting up the key of the song. Then the G7 brings in the tension to make you anticipate the song itself starting.
It also works nicely if you use Dm or Dm7 in place of the D7 (e.g. Meghan Trainor's Baby Doll).
Intro 2: The Fancy Traditional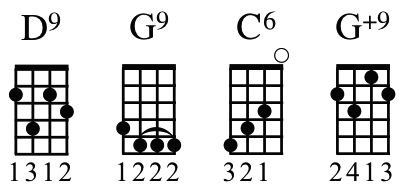 D9 – G9 – C6 – G+9
Here's a great example of taking a familiar theme and mixing it up that I nicked from Peter Moss's tutorial. It takes the traditional progression and includes a bunch of jazzy touches.
That last chord is a pain in the arse to play smoothly so I take the lazy option and switch it with a Gaug.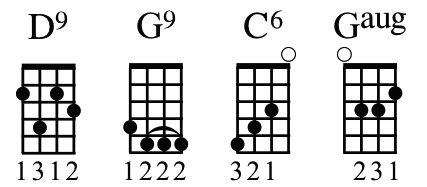 Intro 3: The Hot Tamale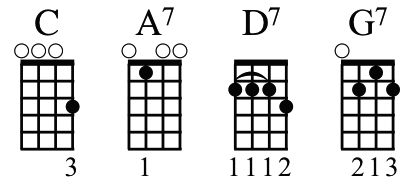 C – A7 – D7 – G7 – C
This intro shares the D7 – G7 – C move but extends it backwards a little. You might recognise the progression from songs like They're Red Hot and Hurry on Down.
Intro 4: The Blues Intro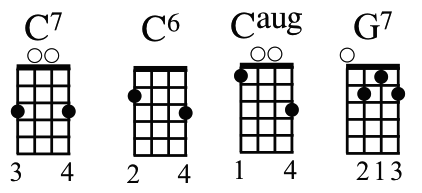 C7 – C6 – C+5 – C – G7
In this progression you have descending chromatic notes on the g-strings. That's a classic blues move that crops up all the time in intros, outros and turnarounds.
If this is your jam, there are a lot a variations on this theme in How to Play Blues Ukulele.
Intro 5: The Shimmy
I just love this intro! I stole from Bob Brozman for my version of Sister Kate.
The Sister Kate version is in G and easier to play. This one is further up the neck which, if you ask me, is more fun. In the video I play it slow then up to speed.
Bonus: The Pharrell
The Pharrell Williams intro is the route one of intros. It's just four or five chord stabs. It's short and simple but it does establish the key and tempo. And it makes it a very short journey from to the hook.
Here's how it sounds:
For this version I'm using the barre chord version of C (5433) to keep the chord stabs short.
Links
Outros: Five Ways to End It
Acoustic Intros 1
Acoustic Intros 2