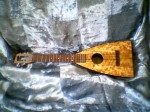 First off: if you're in the UK and looking to buy a Fluke, friend of the blog, Gary is selling his Mango Fluke (right).
These four Oscar Schmidt OU2 with a busted bridge. I mentioned another Oscar Schmidt with a broken bridge not long ago. It does make me wonder if this is a common problem with the Oscar Schmidts.
I'm not too interested in this Liberty ukulele (particularly not at $800). But what a fantastic box.
If the Formby/Harrison ukuleles are a bit out of your range, there's an "Abbot" Monarch ukulele for sale on eBay UK for a measly £6,000 (for that price tag, you'd expect them to spell 'Abbott' correctly).