Garfunkel and Oates – Weed Card (Chords)
At the end of last year, Kate Micucci was the recipient of AV Club's "She's Everywhere" Award. With any luck, she's going to be even more everywhere this year because Garfunkel and Oates have signed up with HBO to make a pilot (amid much talk of them filling the Flight of the Conchords role). If it ever makes it to a series – and I'm informed by an industry insider that G&O fit nicely with where HBO are going – I'm sure this one will be slotted in there.
Quick note on the chords: on the first G in the chorus, the uke plays G but the guitar plays G then F# in the bass. If you want to recreate that on the uke, slip in a Gmaj7 after the G.
Suggested Strumming
INTRO
For the intro: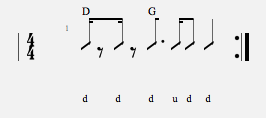 This strum is also used at the end of the chorus and the end of each section of the verses. Slowed down, it sounds like this.

Intro Strum
VERSE
In the verse, start out with:
d u x
For the first D chord, then move on to:
u d u x
Put together and slowed down, they sound like this:

Verse Strum
On the A chord you can go wild with d u d u…. Until you get back to the intro strum.
CHORUS
For the chorus, one of these for each chord in the first two lines:
d – d u
Then a d – x on the Bm and on the F#m:
u – u d –
Together those two go like this:

Chorus Strum
BRIDGE
And in the bridge section, you can do just up-strums on the off beats for the Dm chord. And a single down-strum each for E and F.

More Micucci
Garfunkel and Oates – Me, You and Steve (Chords)
Garfunkel and Oates – Present Face (Chords and Tab)
Garfunkel and Oates – Year End Letter (Chords)
Kate Micucci & Ted (Scrubs) – Screw You (Tab & Chords)
Kate Micucci & William H Macy – It's Time to Get Laid (Chords)
Kate Micucci – Let Us Be Happy Together (Chords)
Kate Micucci/The Gooch – Mr Moon (Chords)