Pharrell Williams/Walk off the Earth – Happy (Chords)
Walk off the Earth do a great job of making the covers they do look like a ton of fun. Every time they make a new one I get the urge to write it up. And I caved once again with their version of Pharrell Williams's Happy with Parachute. It combines a funky riff with some tricky jazzy chords.
I'd recommend trying out a few variations of the chords. For example, you could use these for the F7sus4 – F move: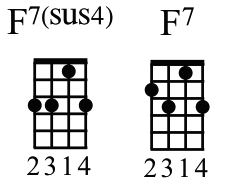 Suggested Strumming
You can use this once for every chord in the choruses:
d – d u – u d –
Which sounds like this:

Happy Strum 1
For something more involved you could do this on the first two chords:
d u x u – u d –
Then on F7sus4:
d – d – – u d
And on F7:
u – u – u – u d u
So you're switching to the F7 on the last up strum of the bar.
Together they sound like this:

Happy Strum 2
And for the intro and the outro just do five down strums.
Twiddly Bits
Here's the verse riff:

Here it is played slowly then up to speed:
Links
Buy the Pharrell version
Visit WalkOffTheEarth.com
More Walk off the Earth chords