Jonathan Coulton/Sweetafton – Tom Cruise Crazy (Chords)
Thanks everyone who voted. After a nice, round 200 votes, the winner was Sweetafton23's cover of Jonathan Coulton's Tom Cruise Crazy. A very deserving winner (although if Willa had picked up that uke in her version of Re: Your Brains it might have been another story) and very topical. If you enjoyed TCC, watch MyHope – her own song with some definite Coulton influence.
You can go here to Digg Tom Cruise Crazy.
The chords for this version are a little different from the original. The most obvious difference being the ukulele version is in the key of A rather than E. There's also this nifty little bit that crops up in the intro and at the end of the chorus.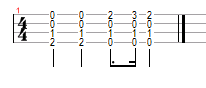 This work is licensed under a Creative Commons Attribution-NonCommercial 3.0 Unported License.