Garry Copeland attended the New Zealand Ukulele Festival and was kind enough to send back this report for us.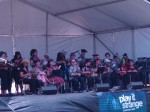 It's a couple of hours since the second annual New Zealand Ukulele Festival kicked off at Auckland's Mount Smart stadium and the joint is jumping.
Welcome to ukulele heaven.
As promised by organiser Kevin Fogarty, it's proving to be a four-string feast and the menu is positively dripping with a mouthwatering selection of top international and home-grown fare.
As head chef, Kevin has been zooming around backstage and in the green room kicking ass, in the nicest possible way, to make sure the customers are kept satisfied.
And why wouldn't they be?
Entry to the festival is free, the weather is warm and sunny and in the cavernous stadium, home to Auckland's Warriors rugby league club, around four thousand guests are partying.
At least half are families, here to watch their ukenik kids in Kevin's mega-band, the Kiwileles. There are so many of them – three hundred or so — that when they perform later they have to move to the seats surrounding the sportsfield because there isn't room on stage.
The kids are pupils from fifty or so schools in the city where, thanks to Kevin and his music teacher colleagues, the uke is all conquering.
The multi-coloured Mahalo Army is on the March and some wag has promised from the stage a few minutes ago that at next year's festival they're going to make a bonfire of school recorders.
"We're tired of hearing London's Burning," he quipped to a cheering crowd.
Kevin and his other band, TeachUkes, are on stage at the moment showing the kids how it's done. They're all music teachers, so they should know.
With a slick and stomping set that includes at least one show-stopper – Rock That Uke – they go down a storm.
Kevin dashes back to the green room to grab a slice of pizza and talk to Ukulele Hunt, apologising a few minutes later for having to break off for a TV interview. When he returns he munches on the same slice of pizza, looks down at the crowd and grins broadly.
"We're waiting to hear from the Guinness Book of Records about the Kiwileles," he says. "Today's performance might be the biggest group of uke performers ever assembled."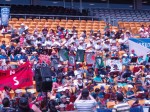 He's used to big crowds. In a previous life, as lead guitarist with the pop-rock group Knobz, Kevin took on the then Prime Minister of New Zealand, Rob Muldoon, one of the great philistines and bigots of the 20th century, when he declared that music wasn't culture and imposed a stinging sales tax on records.
Kevin wrote a song about it and the band recorded it.
Don't Give Me Culture hit the charts and stayed there for seventeen weeks much to Muldoon's annoyance.
"We performed it at a festival once and had 80,000 people singing it back to us," says Kevin, his grin widening at the recollection. "That was quite something."
Today, he acknowledges modestly, is quite something, too – another stage in a ukulele campaign that began in 2001 when he introduced the uke into music lessons at his school in Auckland. Now the uke is on the syllabus in 50 schools in the city and Kevin aims to have similar success in schools all over New Zealand.
He has the backing of the government, thanks largely to a little Fogarty groundwork. In 2002, Kevin flew to Wellington, the nation's capital, and held a ukulele workshop for MPs. The result was a promise of funding.
Attendance at today's festival is proof that the campaign is working.
"Everyone's having so much fun," says Kevin, somewhat stating the obvious, before heading backstage again to marshal the kids for the first of the Kiwileles' two performances.
The main stage, of course, is the focus of the crowd's attention. In addition to TeachUkes, we've already seen SEGUE, an eleven-piece outfit from Australia, whose material ranges from Robert Johnson blues to Lou Reed, by way of the Kinks and the odd bit of skiffle. They have a nice line in self-deprecating humour which goes down well.
On offer for the rest of the day is a non-stop parade of class acts, including Azo Bell and the Old Spice Boys (also from Oz), The Nukes, Cook Islander Chuck Upu, Sione Aleki from Tonga, the Big Muffin Serious Band, the Dukes of Uke, Jordan Luck, up-and-coming young singer songwriter Thom Jackson whose original stuff sits well with the obligatory Iz version of Over the Rainbow/Wonderful World, and US fireball Uni who tears up the stage and pumps out enough adrenalin to take the crowd to a new high.
Upstairs in the stadium's entertainment suite, there's more music from keen amateurs who have turned up from all over New Zealand to do floor spots. In between acts there are workshops provided by performers who have finished their main stage stints.
And when they feel the need to stretch their legs, the crowds can look at entries in the Paint-a-Uke contest or check out the stalls in the market where dozens of ukes are on sale, many of them cheap and cheerful like the Mahalos and the budget end of the Kala range. But there are Martins, too, and pricy Fleas and Flukes.
Competing with them all is New Zealand luthier Ian Milne, whose concert ukes, tastefully decorated with mother-of-pearl, are show-stealers. But his piece-de-resistance is his banjo-shaped concert model, with a cedar top and back and sides made from reclaimed kauri, a wood that has an almost sacred significance for the Mauri.
The design is based on a DIY kit Ian designed for New Zealand Scouts. You can check out his stuff on his website.
Meanwhile, backstage Kevin Fogarty is briefing the troops for the final performance of the day – an all-join-in version of the festival theme song. Appropriately enough, it's called Ukulele Heaven and, of course, Kevin wrote it.
By four in the afternoon, it's all over bar the shouting for more.
And you can bet your last Kiwi dollar that Kevin Fogarty will provide it. Plans for next year's festival are already on the drawing board.
Kevin's seen the future.
And it's ukulele.