Today I can put my feet up and relax because we have a guest post by Armelle of Ukulele Languages discussing her visit to the Paris Ukulele Festival.
Great day, lovely people, excellent ukulele acts : a day to remember !
This post would be without end if I were to tell the 11-hour-long story of the Paris Uke Fest. But here are some highlights which I'd like to share.
Early arrival :
I wouldn't miss a minute of the Paris Ukulele Fest after waiting 14 months to meet other ukulele players !
At 1:00 pm there was still plenty of room in the Bellevilloise. It made it easy to meet people, test all the ukuleles on display, chat with the Juste Cordes Team, with Ken Middleton and his Ohanas, and admire Sylvain's unusual handmade ukuleles.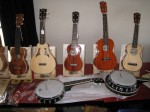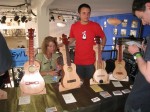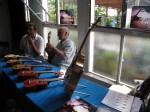 I then got to put faces on pseudos seen on forums. The room was diffusing a soft ukulele chatter, people trying out each other's ukes. The atmosphere was very laid back and international so I felt immediately at home.
Workshops :
In a room which had a temperature close to a sauna's, a first workshop was led by Tim Sweeney who tried to convince our group that playing with a guitar pick had more impact on listeners than standard playing using fingers.
This was followed by a great strumming course by Ukulelezaza. Great feel to hear a group of people strumming ukuleles with muted strings. It felt like a percussion band. Combining all the techniques ukulelezaza explained was rather challenging and my Fluke didn't really wish to remain silent and persisted making itself heard every now and then  …
The Film : Rock that Uke
Weird is what best summarizes it. A portrait of over the edge American ukulele players.  I'm not sure if the heat is to blame but I missed the point entirely. But here is what clever people such as writer, director and producer Ethan Coen  said about it :  "A rollicking anagnorisis of Ukulele Truth". Sure… whatever…
The Open Mic session :
In a very casual atmosphere, courageous people went up on stage and displayed their talents in many different styles.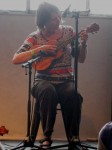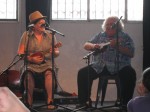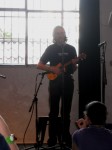 The concerts :
Since a lot of people were about to doze off because of the heat,  it was time for a lively ukulele act. The Ukulele Boyz from the South West of  France stormed the room in their cliché Hawaiian outfits and played covers of well-known French and Spanish songs, slightly altering original lyrics.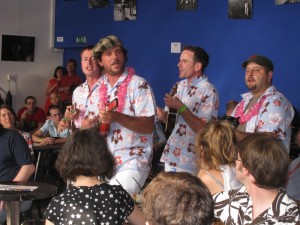 Tricity Vogue and the Sugarsnap Sisters then made sure we kept the energy gathered after the performance of the Ukulele Boyz with a brilliant set of songs and lovely vocal harmonies which I thoroughly enjoyed.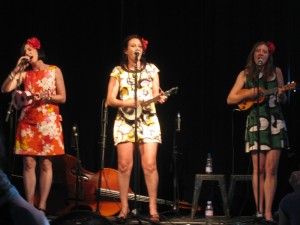 To prevent us from being over cheerful after the previous performances, Kelli Rae Powell reminded us that "There's nothing bad that can' t get worse"…
Fortunately, Ukulelezaza and the Red Cats followed to display all the techniques he had showed us earlier on and distract us from our dark thoughts.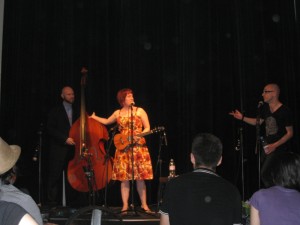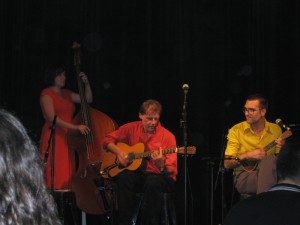 Time then for the raffle with Lionel drawing the lucky tickets. The first Prize, a Pete Howlett tenor uke,  caused complete amazement to its winner who couldn't believe his luck.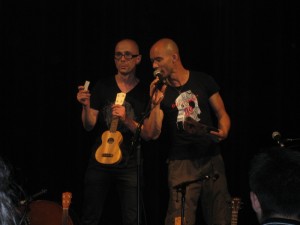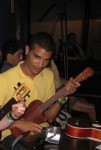 If there was a background chatter in the room, it ceased when Patti Plinko and her Boy started playing.
This was a really raw and excellent performance which left many of us enthralled. From whispers to roars Patti really looked like a playful lioness with her lion Boy at her side. There was such a complicity between the two of them, intense stares defying each other to play faster… I had heard a few of her songs on her MySpace but it was nothing like seeing her live.
My absolute favourite act of the evening.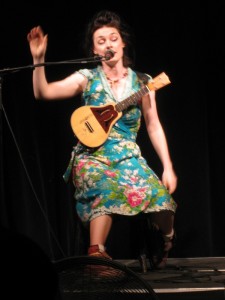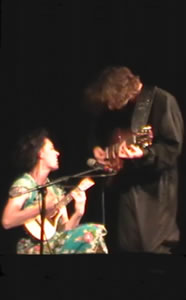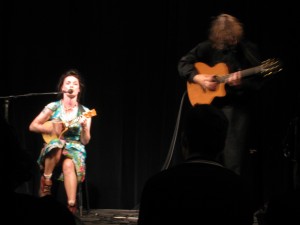 The last concert was Swedish Elvira Bira
The concept of punk ukulele with a yellow Makala and a tuba is quite original (she was without her band so her father played the tuba to give her a bass sound) and Elvira certainly had a voice.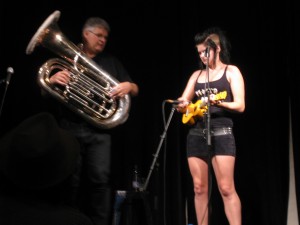 This brings us to the end of the Paris Uke Fest and I am already looking forward to next year's.  You should be too.
This post wouldn't be complete without a video of the concerts, so here it is.
Paris Uke Fest 2009 – The concerts
Thanks a lot to Al for inviting me to write on Uke Hunt. It's been an honour to write here. It was very intimidating at first.