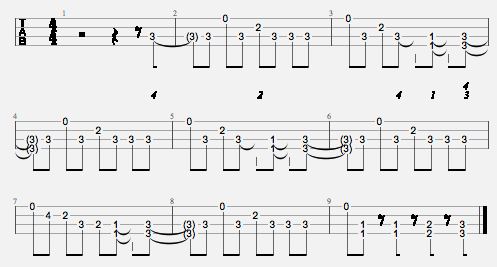 Dillinger Escape Plan and the sort of band I'd usually be into but I caught them at Donington and they BLEW. MY. MIND. They tight, wild and batshit insane.
Milk Lizard is one of their more straightforward songs: mostly in 4/4 time, only occasional shifts in tempo and it has a singalong chorus. Obviously one for the laydees.
The riff moves to the uke pretty well – even keeping it in the same key. If you want to make it easier to play, you can drop the notes on the g-string without losing anything important. And you can drop the little run in bar 7 and keep playing the riff if you don't feel like some pointless showing off.

Riff