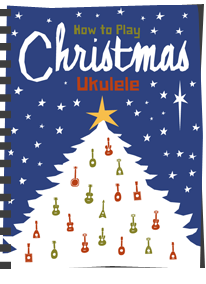 I've just put out the 2nd edition of How to Play Christmas Ukulele. The main points of feedback I got from the first edition were:
– Make the arrangements easier.
– Make the tabs bigger.
– Do videos.
So that's what I've done.
I've made the full arrangements simpler. There's less fancy fingerpicking – they're mostly just using the thumb of the right hand. And even simpler still, I've done melody-only arrangements (so you're just playing one note at a time) with chord boxes for the backing.
There are videos for all the full arrangements and MP3s for all the melody arrangements (they're made so you can adjust the balance on your speakers and play along to the chord backing).
The book has a new look and the tabs are easier to read.
If you bought the first edition, you should already have an email letting you download the new edition free. If not, send an email to ukulelehunt@gmail.com with the email address you used to buy it and you'll get the second edition.
Buy it below or go to How to Play Ukulele to find out more.
What You Get
Once you've paid (payments handled by PayPal) you'll be taken to the download page and receive an email with a link to the page where you can download a zip file containing:
– Tab for full arrangements 11 Christmas tunes for standard tuning (gCEA re-entrant). You can watch videos of all of them being played on YouTube.
– Tab and standard notation for the melodies only with accompanying chord boxes.
– A pdf file containing performance notes for all the tunes and descriptions of some of the techniques used.
– MP3s of all the melody arrangements. You can hear the melody being played and – after a bit fiddling with your balance knob – use them as a backing track.
If you haven't bought an ebook from me before you might want to read the FAQ page for more information. And if you're using an iPad or any idevice, you'll need to download to your computer, unzip and transfer the files from there.
The Full Arrangements
Here are the videos for all of the full arrangements:
Auld Lang Syne
Deck the Halls
God Rest Ye Merry, Gentlemen
Good King Wenceslas (Rocky Version)
Good King Wenceslas (Traditional Version)
Hark! The Herald Angels Sing
Here We Come A-Wassailing
In the Bleak Midwinter
Silent Night
Sussex Carol
The Holly and the Ivy
Twelve Days of Christmas
Melody Arrangements
Buy It Now
Click the button below to buy it or go to How to Play Ukulele to find out more.
Buy it here" target="_blank">Buy it here