After the last hip hop riffs post people seemed keen for a follow up. And I'm more than happy to oblige with five six more.
Same riffs rules as always: it's not the whole song and not necessarily in the original key.
Kanye West – Touch the Sky

Riff

A significantly slowed down sample of Curtis Mayfield's Move On Up. The track was produced by Just Blaze and you can see him jamming on this song with, unexpectedly, John Mayer.
I've changed the key of this one to make it more ukeable. Here it is in the original key.
P.S. They censored "skeeted" in the video?

Beastie Boys – Sure Shot

Riff

My fingers kept tripping up over this one so I simplified it by removing the lead in note at the end of the second bar. If you've got mad skills you can play it like this:


Public Enemy – Public Enemy No. 1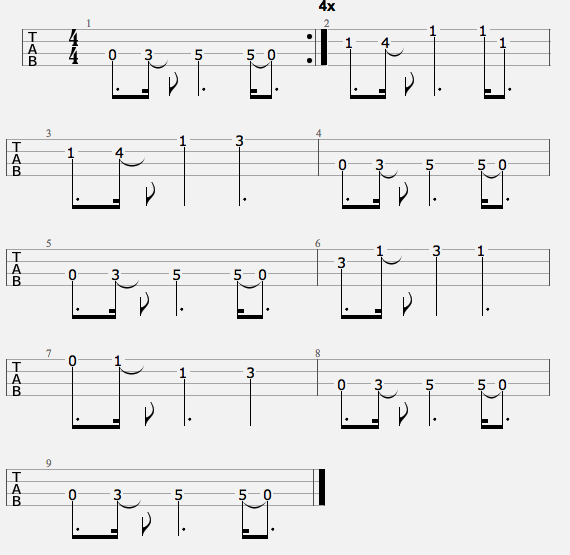 Riff

Okay, so this is an intro more than a riff but it warrants inclusion by being great. It's based on a 12-bar blues riff which is something you don't hear a lot of in hip hop.
It's in B so I've moved everything up a fret for the uke version.

BONUS: Killer Mike – Big Beast

Riff

I didn't originally plan on including this one but I had to for three reasons:
– It borrows from the Public Enemy No 1 intro.
– I love Killer Mike.
– The video is completely insane.
Like Public Enemy No 1, it's in B but I've moved it up a fret for the uke version.

Jay Z – Dirt Off Your Shoulders

Riff

I included Jay Z twice in the last hip hop post and again in this one. I'm sure this fact will be bragged about in the next song he does about how awesome Jay Z is.

Eminem – The Real Slim Shady

Riff

Keep the notes on this one really short by releasing pressure on the strings right after you play them. I'd recommend barring the third fret with your index finger all the way through.

More Hip Hop
Hip Hop Riffs Part 1
Mr B – Chap Hop History
Jay Z – Death of Autotune
Biz Markie – Just a Friend
Outkast – Hey Ya