twenty one pilots – We Don't Believe What's On TV (Chords)
I've been a bit on the fence about twenty one pilots. But I've been looking for some good old ukulele punk pop since The King Blues called it a day and We Don't Believe What's on TV fits the bill very nicely.
The are some chord inversions in the song you might not be familiar with. I've written them up the way I think he's playing them. But feel free to use inversions that are more familiar like your prefered way of playing E or the 0100 version of A7. If you're using the chord charts as written remember that the fret number at the top right of some of the diagrams indicates the fret the diagram starts on. For example, the E7 starts with a barre at the fourth fret (not the first).
Suggested Strumming
You can use this as the main strum:
d – d – d u d u
The 'Tros and the Verses: One main strum each for F#m and E. Then twice for A except the 'yeah, yeah, yeah' bits. There do the main strum once, then one down strum. Then either stop or do three down muted strums.
Bridges: Main strum twice for each chord.
Chorus: Just one down strum per chord.
Twiddly Bits
He uses this nice little run at the start of each line in the slowed down version: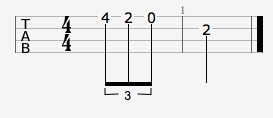 After that you go to F#m as usual.
Links