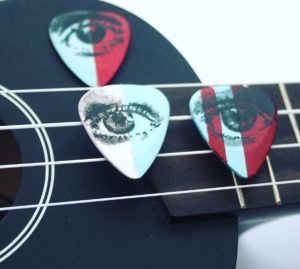 The online portion of the Art on a Ukulele campaign has kicked off with proceeds going to The Hepatitis C Trust. There are various levels of reward. I've gone for the Art on a Plectrum and have my fingers crossed for a Pam Glew eye-pick that will go great with my collection of Illuminati memorabilia.
Ukes
– Pelem guitarlele.
– Hive's Aural Genesis.
– David Gomes T8-425 2000s Tenor 8 string.
– Alula with crazy back.
– 1928 Martin 5K.
New Releases
– Isaac Balson's Mild Card complete with a Slow TV video for the whole album.
– Jacob Norman Chainsaw-Arm's low-fi, 8-bit Heartburn64.
Not Ukulele
– Mexican popstar and occasional uker Natalia Lafourcade has put together one hell of a backing band for her latest album including guitarists Miguel Peña and Juan Carlos Allende. Take a listen to Te Vi Pasar and her collaboration with Buena Vista Socialist Omara Portuondo.
– Musical fractals are completely insane.