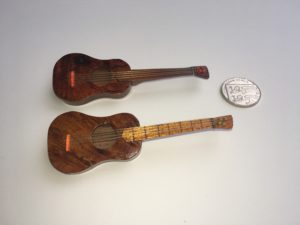 You might have seen me raving about Jonathan Lewis's campanella tabs in the past. He's back with a new tab ebook Classic Folk Songs for Fingerstyle Ukulele. This one has much simpler arrangements but still up to his high standard.
I was very kindly gifted this two vintage tiny ukuleles made by Cy Tuff. He made these lovely little ukuleles between 1942 and 1964. And he did a great job with them. Big thanks to his granddaughter Sue for them and to Chuck for passing them along.
Window Shopping
– A George Formby banjolele has been auctioned off for £28,000.
– Two vintage Lyon & Healy shapes: the Shrine and the Bell.
– Shell-back Ray Rootswork ukulele.
– KoAloha custom headstocks.