Continuing the celebration of Manchester in honour of the Bossarocker's Ukulele Show with five – mostly jangly – Manc riffs.
The Stone Roses – Waterfall
I moved this one up a fret because I like this sound of the g-string ringing. But, if you want to play along to the record, it's easy to move everything down a fret (and the G down to the C-string 6th fret).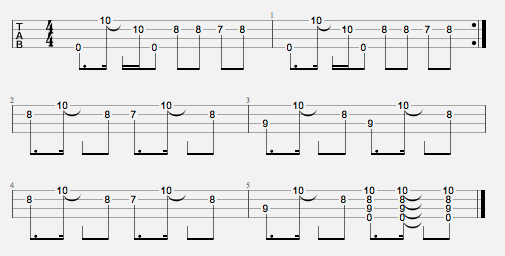 Riff


The Happy Mondays – Loose Fit
This one is slightly adapted to keep it in the same key.

Riff


Joy Division – Love Will Tear Us Apart
I wanted to have this one strummed. That way you can get away with implying the low B and A notes in the last two bars rather than playing them.

Riff


The Chemical Brothers – Galvanize
I don't know if this one even counts as being from Manchester. The Chemical Brothers were both born in London and this riff was sampled from Moroccan Najat Aatabou.

Riff


The Fall – Wrong Place, Right Time
I couldn't let this post go without one from The Mighty Fall. The first half of the riff sounds great with full chords. But it does make the second half – played as single notes – sound a bit wimpy.

Riff


More Manchester
The Smiths – This Charming Man
The Fall – Theme From Sparta FC
The Fall – Blindness
The Fall – How I Wrote Elastic Man
The Happy Mondays – Step On