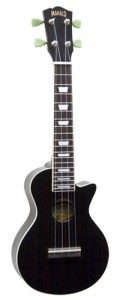 I felt like a Burmese monk that hadn't been through Poy Sang Long, I really did. It's a rite of passage for any UK uke player to own a Mahalo ukulele and I never did. Back in my day, there was no useful website to tell you which ukulele to buy, so I ended up with a real piece of junk.
But my Mahalo deficiency was set to change when I saw their Les Paul copies.
Mahalo don't have a great track record when it comes to Gibson copies. Their version of the Flying V looks awful and sounds worse. But when I saw their Les Paul copies, I just couldn't resist.
The Good Stuff
– The Look – The uke looks great. It's available in tobacco sunburst, cherry and black (I went with the black – to match my heart). They all look great. From a distance at least. As you'd expect from a cheap, Chinese made uke, the attention to detail isn't quite there. There are a couple of areas that are a little messy up close. But they're nowhere near bad enough to spoil how it looks.
– The Price – Not as cheap as the cheapest Mahalos, but at £35 it's irresistible.
– Plays Easy – The action is low and it feels right.
– Good sound – Even with the strings it comes fitted with, the uke sounds great for the price. These mp3s were recorded without any adjustments other than tuning up.
Strumming test:

Strum Test – Sister Kate (MP3)
Picking test:

Picking Test – Staten Island Slide (MP3) (written by Craig Robertson)
The Less Good Stuff
– Intonation The intonation leaves a bit to be desired. I don't know why they've bothered with a compensated bridge if they're not going to take care with setting up the intonation. Having said that, the problem doesn't rear its head in the first seven frets. So it's fine for basic chord strumming.
In this example, I'm playing a harmonic at the 12th fret then playing the note at 12th fret itself.

Mahalo Intonation Test (MP3)
Overall
While there's no danger of the Mahalo becoming my No. 1 uke, I'm very happy with it. It's perfect little strummer to have lying around. And it looks like a Les Paul for chuffs sake.
More Mahalo reviews on buy a ukulele.
It's obviously a very popular uke as it's pretty tricky to find one right now. They're few and far between on eBay and 'Out of Stock' signs are appearing on websites.
Search eBay Germany (as I write, they have an electric ukulele version of the Les Paul Mahalo which I haven't seen anywhere else).
Search eBay Australia (oooh, their Mahalos have solid cases)
Also, for those who've asked about my tabbing software: Guitar Pro Review.
UPDATE: The little lick I throw into Sister Kate goes like this: