I was in the process of updating the Songs with Chords You Know page and became curious about the most used chords on the site. Here are the results (click it for the full size image):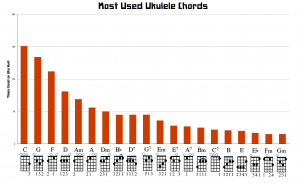 And here's one showing all chords used four times or more. The first thing that struck me was that it's a Pareto distribution (near enough) which means if you learn the first few chords you're going to be able to play most of the songs.
I was curious, so here's a chart for the chords for ukulele-tabs.com's most popular songs. The results are similar but there's a much clearer gap after the top four. So if you want to write a successful ukulele song use the chords C, G, Am, F.
Songs you can play after learning 6 chords
Just learn these six chords:
C, F, G, Am, Dm and Em
And you'll be able to play these songs:
NeverShoutNever! – Your Biggest Fan/Did It Hurt?
Noah and the Whale – Five Years Time
OK Go – This Too Shall Pass
Paolo Nutini – High Hopes
SoKo – I Will Never Love You More
The Bobby McGee's – A Dog At All Things
The Lancashire Hotpots – He's Turned Emo
The Tiger Lillies – Start A Fire
Wellington International Ukulele Orchestra/Kings of Leon – The Bucket
Addams Family Theme Tune
Alton Ellis – Rock Steady
Black Kids – I'm Not Gonna Teach Your Boyfriend to Dance With You
Darren Hanlon – All These Things
Electrelane – Cut and Run
Garfunkel and Oates – Me, You and Steve
Florence and the Machine – Dog Days Are Over
GUGUG – California Sun
Israel Kamakawiwoíole/Jason Castro – Somewhere Over the Rainbow
Julien Dore – Cet Air-La
Kate Nash – Foundations
Kate Micucci/The Gooch – Mr Moon
Last Shadow Puppets – Standing Next to Me
Phosphorescent – Wolves
She & Him – Sentimental Heart
If a song doesn't use the most common chords
If you come across a song that's all Eb and Bb and you haven't mastered those chords yet, there is a way to make it easier: change the key.
To do that visit this site. Take your complicated chord chart. Copy and paste it into the box. Go to the 'New Key (required)' drop-down menu and select C. Click 'Click Here'.
Whatever it spews out will sound right and will usually be easier to play (if not to sing).
Favourite Chord?
All of which raises this question: what's your favourite chord?
I'm going with Caug (1003) or add in the 7 as well (1001). Leave yours in the comments.