McFly – Love is Easy (Chords)
It's been quite a while since I did any proper pop songs and risked hospitalisation. So this week I'm doing two.
I never thought I'd write up a McFly song but:
a) They've released a ukulele.
b) It contains a diminished chord and is therefore beyond reproach.
c) It's insanely catchy.
The trickiest part of the song is the quick changes between the E and F#m. I've shown the standard fretting in the chord chart but test out some of the variations to see which feels best to you. I went with number 4 and blocked the g-string with my thumb.
Suggested Strumming
You can use this as the main strumming pattern:
d – d u d – d u
Which sounds like this:

Strum (MP3)
And vary it up with this:
d – d u d u d u
Use one of those patters –
Doo sections: Twice for the A's and F#m and once for the D and E.
Verse and bridge: Twice for each chord.
Chorus: Once per chord except the quick F#m – E change. Do two downstrums each for those (or just one if you want to make it a bit easier).
Twiddly Bits
Tom might have taken up the uke but Danny remains my favourite McFly. Even if he's not a ukulelist he was still kind enough to make the solo ukeable. Here's a quick tab of the solo/outro lick for uke: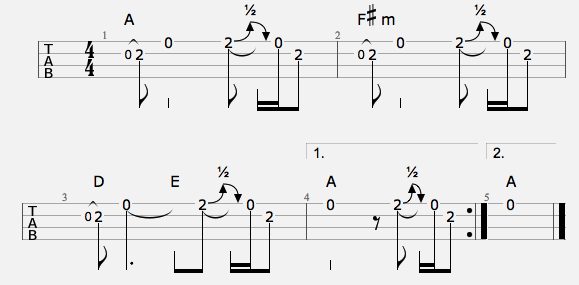 Here's how (half) the solo sounds this on uke:

Solo (MP3)