Amanda Palmer – Creep (Chords)
Having been mention three times on this blog in the last week, this song has officially reached the status of 'zeitgeist'. Amanda Palmer's version has caused a stir in blogville; Julien Dore won Nouvelle Star yesterday; and, friend of the blog and friend of the stars, Susan Tobacco pointed me in the direction of the above version by Lady Carol.
A couple of things worth pointing out in Palmer's version. The first is the juicy Cmadd9 chord she plays at the end of the intro. The second is that she seems to be having trouble moving to the B chord.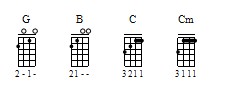 One way she might have solved this (other than that tiresome 'practicing' business) would be to play the song in D tuning using these chord shapes. You could also use these shapes in C tuning to make hollering Ruuuuuuuuuuuu-huh-huh-hun a little easier.
Buy Dresden Dolls UK
Buy Pablo Honey UK