Amanda Palmer – Creep (Chords)
Having been mention three times on this blog in the last week, this song has officially reached the status of 'zeitgeist'. Amanda Palmer's version has caused a stir in blogville; Julien Dore won Nouvelle Star yesterday; and, friend of the blog and friend of the stars, Susan Tobacco pointed me in the direction of the above version by Lady Carol.
The trickiest part of the progression is the G – B move. If you're having trouble with it you can substitute in this alternative version of the B7 chord which is just the G chord with every finger moved one string closer to your face: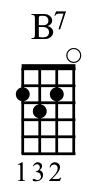 Suggested Strumming
Palmer uses this as her main strum:
d – x u d u x –
She varies it a bit so feel free to do that in your own version.
Links
Buy the Radiohead version
Buy the Amanda Palmer version
More Amanda Palmer chords