You're still looking on the net for Christmas presents this late? You are screwed. Unless…
The big advantage with ebooks is that they're delivered straight away (unless you pay be echeck – slogan: "Do you miss the hassle of real-world checks?") and you can send them to anyone, anywhere instantly.
In my opinion, the best ukulele ebooks around are those available at How To Play Ukulele. Of course, I might be slightly biased in that opinion since I wrote them. If you want a more even handed view, here's what other people are saying.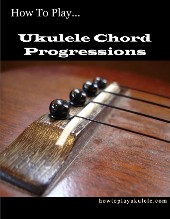 How to Play Ukulele Chord Progressions
"This is the first time someone's explained basic chord formation and scales and transposition in a way that makes sense to me"
Mike Dickison of Mike's Ukulele Page
I started using the book – it's great!!! This is really a helpful and friendly guide.
Jen Kwok
I am really glad I bought your chord progression theory book. You did just a great job! I am taking piano from my daughter's classical teacher. He is great but somewhat hardcore classical. He tried to explain some of the theory to me, but I think that your book is way more accessible and directly applicable. And this comes from me, someone who has taken theory classes in the past!
Carol Seigal
"Your 'How to play ukulele chord progressions' is excellent. It cleared up a number of things for me. I'm just getting into music theory and having something that relates directly to the ukulele was very useful."
Chris Double
The "How to Play Ukulele Chord Progressions" was great. I got a better sense of hamonized chords, and their fretboard relationship. The feelings the sounds generate for different chords, and how the tension is built and released really made sense.

This ebook is key to understanding chord relationships, and I can take my music to whole new levels.
Terry Truhart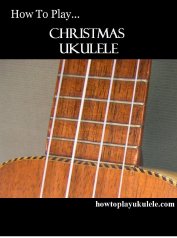 How To Play Christmas Ukulele
An excellent selection of tabs and playing tips… I highly recommend picking it up.
Chris of The UkeCast.
Just have to say again that your "How to Play Christmas Ukulele" is really terrific. There is a fair amount of ukulele Christmas music out there but very little as good as your arrangements. All of your music is very easy to play as well a lot of fun to play.
Art Crocker
The selection of songs is great. There are popular favorites, along with some that I'd never heard of before. All are arranged for beginner to intermediate. I'm definitely in the beginner camp, but have been able to play a few bars of each… Priced at $7.00, this eBook is a bargain.
Ukulele Review