I like to keep a list of songs that use just the most common ukulele chords. Arranged by the order people usually learn them in. That way you can find some songs to play no matter how few chords you know.
And here's the updated list including notable additions like:
Lorde/WIOU – Team
Junior Brown – Better Call Saul
The Pogues – Sally McLennane
Mungo Jerry – In the Summertime
C, F and G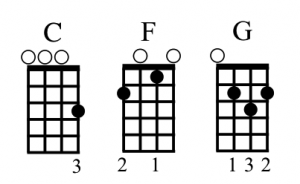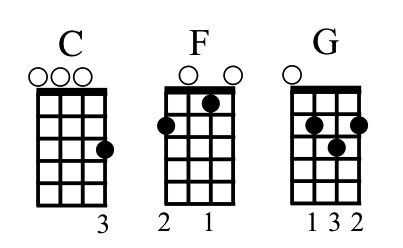 If you prefer, you can use G7 in the place of G or vice versa for any of these songs.
NeverShoutNever! – Your Biggest Fan/Did It Hurt?
Noah and the Whale – Five Years Time
OK Go – This Too Shall Pass
Paolo Nutini – High Hopes
SoKo – I Will Never Love You More
The Bobby McGee's – A Dog At All Things
The Lancashire Hotpots – He's Turned Emo
Mungo Jerry – In the Summertime
The Tiger Lillies – Start A Fire
Wellington International Ukulele Orchestra/Kings of Leon – The Bucket
Plus Am, Dm and Em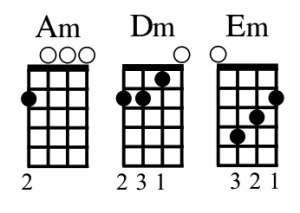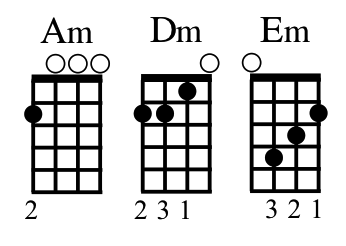 Addams Family Theme Tune
Alton Ellis – Rock Steady
Black Kids – I'm Not Gonna Teach Your Boyfriend to Dance With You
Blondie/Imelda May – Dreaming
Darlene Love – Christmas (Baby Please Come Home)
Darren Hanlon – All These Things
Electrelane – Cut and Run
Garfunkel and Oates – Me, You and Steve
Florence and the Machine – Dog Days Are Over
GUGUG – California Sun
Israel Kamakawiwoíole/Jason Castro – Somewhere Over the Rainbow
Julien Dore – Cet Air-La
Kate Nash – Foundations
Kate Micucci/The Gooch – Mr Moon
Kelli Rae Powell
Last Shadow Puppets – Standing Next to Me
LP – Into the Wild
The Lumineers – Ho Hey
Phosphorescent – Wolves
She & Him – Sentimental Heart
Plus D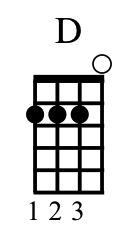 Allo Darlin' – Tallulah
Allo Darlin' – Space Christmas
Amanda Palmer – In My Mind
Antsy Pants/Bear Creek – Vampire
Belle and Sebastian – The Boy with the Arab Strap
Daniel Johnston – Living Life
Damon Albarn – Mr Tembo
Garfunkel and Oates – The Fade Away (you can use D instead of D7)
Gothic Archies – Shipwrecked
GUGUG/The Ramones – Blitzkrieg Bop
Keston Cobblers' Club – You-Go
Phredd – Elmer's Electric Tricycle
Skinny Lister – Colours
The Dubliners and The Pogues – The Irish Rover
The Pogues – Fiesta
The Little Ones – Tangerine Visions
Vampire Weekend – Oxford Comma
Velvet Underground and Nico – I'll be Your Mirror
Warren Zevon – Werewolves of London
Plus A and E7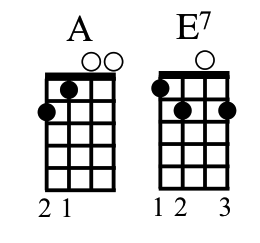 Camera Obscura – Cock Up Your Beaver
Florence & the Machine – Kiss With A Fist (don't panic, you can use E7 instead of E in this song)
The Pogues – Sally McLennane
Joan Jett – Bad Reputation
Junior Brown – Better Call Saul
Kate Micucci & Ted (Scrubs) – Screw You
Paolo Nutini – Pencil Full of Lead
The Pogues – Streams of Whiskey
The Weavers – Pay Me My Money Down
Plus Bb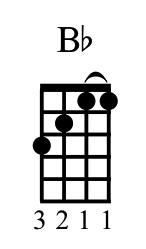 Beirut – A Candle's Fire
Gotye – Somebody That I Used To Know (You can use C instead of C5)
Ingrid Michaelson – Be OK
Leona Lewis – Bleeding Love
Lorde/Walk off the Earth – Royals
Lorde/WIOU – Team
Mumford and Sons – The Cave
Nevershoutnever – First Dance
Neutral Milk Hotel – King of Carrot Flowers
Noah and the Whale – Jealous Kind of Love
Sufjan Stevens – Lumberjack Christmas
The Tokens – The Lion Sleeps Tonight
More…
Mastered all those? Tackle more: